Jolie and Brian had an unbelievable wedding set at the Garden Theatre on April 16th, 2016!
I've had the pleasure of knowing Jolie for almost 10 years. (Hey high school reunion!) She was a saxophone player in the band from the other middle school and maybe it was our similar names that drew us together, but whatever it was, we formed, as I would describe it, a really fun bond during our all of our years in high school. Jolie's laugh is contagious, she was always someone who was looking for fun and good laughs. Alway's willing to braid my hair at band camp, and be goofy with me. She's someone that you definitely want to keep in your life if you've formed a bond with her. She's loyal, caring, and hands down one of the most compassionate people I know. So needless to say, I was terrified and honored that she wanted me to shoot her wedding.
This lovely duo had their ceremony and reception held at the Garden Theatre, which was an incredible venue! Jolie and Brian fuzed the country in them with the city venue and it was beyond lovely.
I kicked off the day by joining Brian for some getting ready photos, who was almost too chill, but his groomsmen kept him entertained and smiling as they all prepared for the day's festivities!
Nothing is sweeter than lace and cow girl boots. Am I right!?
Lace, burlap, pearls, cowgirl boots. Best combinations ever!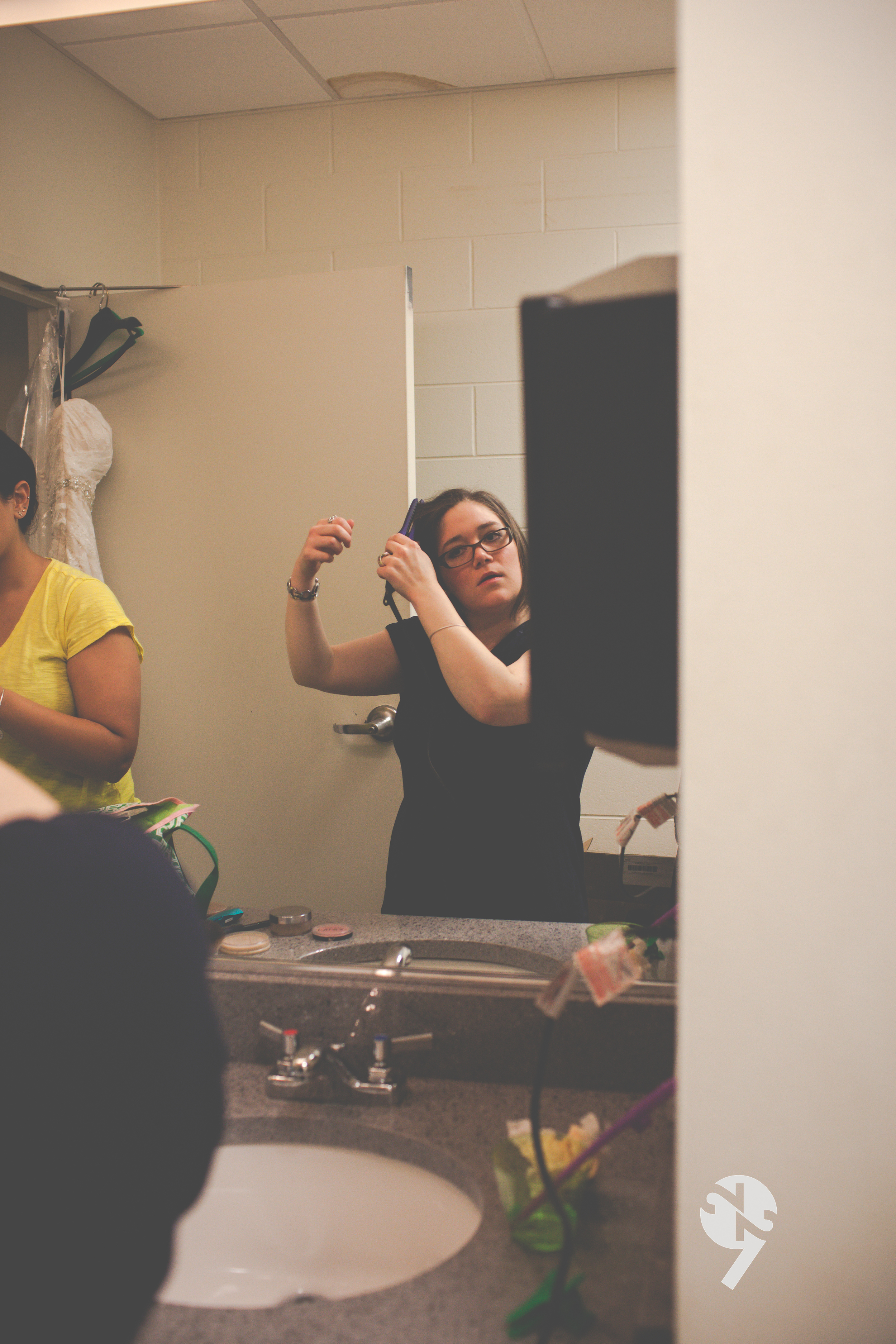 Way too much fun was had while Jolie was getting her hair done, and more fun seized when Grandma came in intrigued by the lovely accessories for the drinks. I definitely think this was the highlight of the day.
Yeah... I said highlight, right?!
Like mother like daughter! hahaha!
Jolie had requested a photo of her and her man together before the big ceremony. No peeking but just a nice moment together. It was sweet.. and sunny. Very sunny. But they definitely didn't let that stop them from enjoying that time together.
They had so many amazing details in their wedding. Everything from the quilt for guests to sign to the bathroom amenities that they provided for their guests! They totally out did themselves and I just think their day was beyond perfect!
That's the kind of kiss you dream about!
Seriously, Jolie!? Could you be any more gorgeous!? Give me whatever you've got cause I'm jealous!
The veil was amazing and so perfect with her dress!
Jolie and her dad had quite the dance, it featured smiles, hugs, and lots of tears. It was so sweet. My favorite moment, hands down!
Jolie and Brian, whoa! Thank you thank you! You guys know how to have one heck of a wedding and I'm so grateful that you trusted me to capture your day. It was incredible and I'm especially blessed that I was able to meet the gentleman who swept Jolie off her feet. She is one heck of a woman and I know that she wouldn't choose any man less than spectacular. You two are a lot of fun and I know your marriage will be full of love, (lots of) laughter and good spirits! Cheers to one wonderful marriage!
Ceremony & Reception: The Garden Theater

Officiant: Cindy Barto

DJ: Lansing DJ's ( DJ Todd)

Rings: Artisian Jewelers and Larson Jewelers

Hair & Make up: Jessica Baird
Hair-Angela Banfield
Flowers: Ashley Ayscue

Dress: The White Dress Boutique

Shoes: Howell Western Wear

Jewelry: Grandmother, Mother in Law

Food: The Garden Theater Catering

Cake: Elite Sweets

First song: "Never Stop"

Father Daughter song: "Butterfly Kisses"

Mother Son song: "What a Wonderful World"