Graham Alan Kartes was welcomed into this world September 17th and he is just growing into this snuggly bundle of love! I cannot wait to do his 3 month session to just compare how much he's grown and filled out! Being able to see Graham the day he was born was such a joy, and we took the great opportunity to document that first day!
We're teaming up with Madison and Trevor to do a year long project with Graham, in the hopes to provide the service to other couples! We're SO incredibly excited about the project and we cannot wait to get to the one year so we can put everything we've documented together for them! Here's a sneak peak if you haven't seen it already of Graham's first day on this earth, surrounded by some of his aunts and uncles, Mom and Dad!
Since we're now conveniently located in Grand Rapid's we were able to fit in a newborn session with Graham as well as do Liv's 2 year photos just a week after his birth. Madison always has awesome ideas for shoots and I love it every time! She brings awesome props, shows me adorable pins she has, and gets her family's outfits perfectly coordinated. If anyone needs tips, ideas, or suggestions for shoots, talk to Madison! I personally think she should be a stylized shoot coordinator (if that exists) because she'd rock it!
For this shoot Madison wanted to go to an apple orchard and she brought along plenty of blankets, bought a bag of apples at the orchard not only for snacks for Liv but for the shoot, a wooden crate box, and an adorable chair. Madison's ideas are amazing, but I have to say she puts Trevor to work on these shoots because he's usually the one hauling all of it! haha Props to Trevor (no pun intended, seriously) for all your efforts and hauling Madison's visions that morning, we always appreciate it! :)
While Madison was getting apples and Trevor was loading up the wagon with the props, I took Liv over to the apple orchard to show her the apples and do some exploring. It worked out perfectly!
Remember when I said Madison coordinates outfits perfectly. Yeah, look at how adorable Liv's outfit is. Bow, boots, and all! So cute!
So funny little story about this photo. As soon as Madison showed up, Liv ran over to her in fear like I was the photo monster. I think she just got sick of me photographing her so much and was relieved her mom came to the rescue ;). Needless to say, these photos are completely candid and I think they are my favorite from this session because there was no posing involved and just shows how much love this peanut has for her parents and vis versa!
And this. Shortly after loving on Mom, Dad came into vision and this girl hauled her little butt as far as she could over to him. It was nothing short of adorable. Girl loves her daddy!
Livvy needed a snack break during the shoot :)
So while we were doing Mom and Dad with Graham, we let Liv just hang out in the wagon and when we were done, I turn around and this girl is just having the time of her life. This photo just cracks me up.
After the apple orchard we went back to their house to do some more newborn photos. I couldn't resist photographing Graham's room. This room goes to show how amazing Madison really is at designing and decorating! Just look how pinterest worthy this room is! So adorable. They did a sort of outdoor- hunting theme because Madison's family as well as Trevor's are big into hunting. Growing up for them both, it was always a big activity.
The little touches in this room are so personal, and I love it. The turtle shell was found by Madison's dad, the picture is of Trevor's moms' dad and the deer antlers are from Trevor's first buck!
Another one of my absolute favorite shots! Madison's hand is holding Graham's head and Trevor's hand is on Liv's shoulder. A completely candid shot and it is just is so beautiful. This photo (for me) gives so much sense of support, connect, love, and what it means to be a family.
Their oh so talented Memaw (grandma) knitted this adorable football hat and sack. He was so comfy and cozy.. for like 2 seconds before he started crying.
We got his room nice and toasty warm for this last part of the shoot, and he did not whine once for these last poses! :)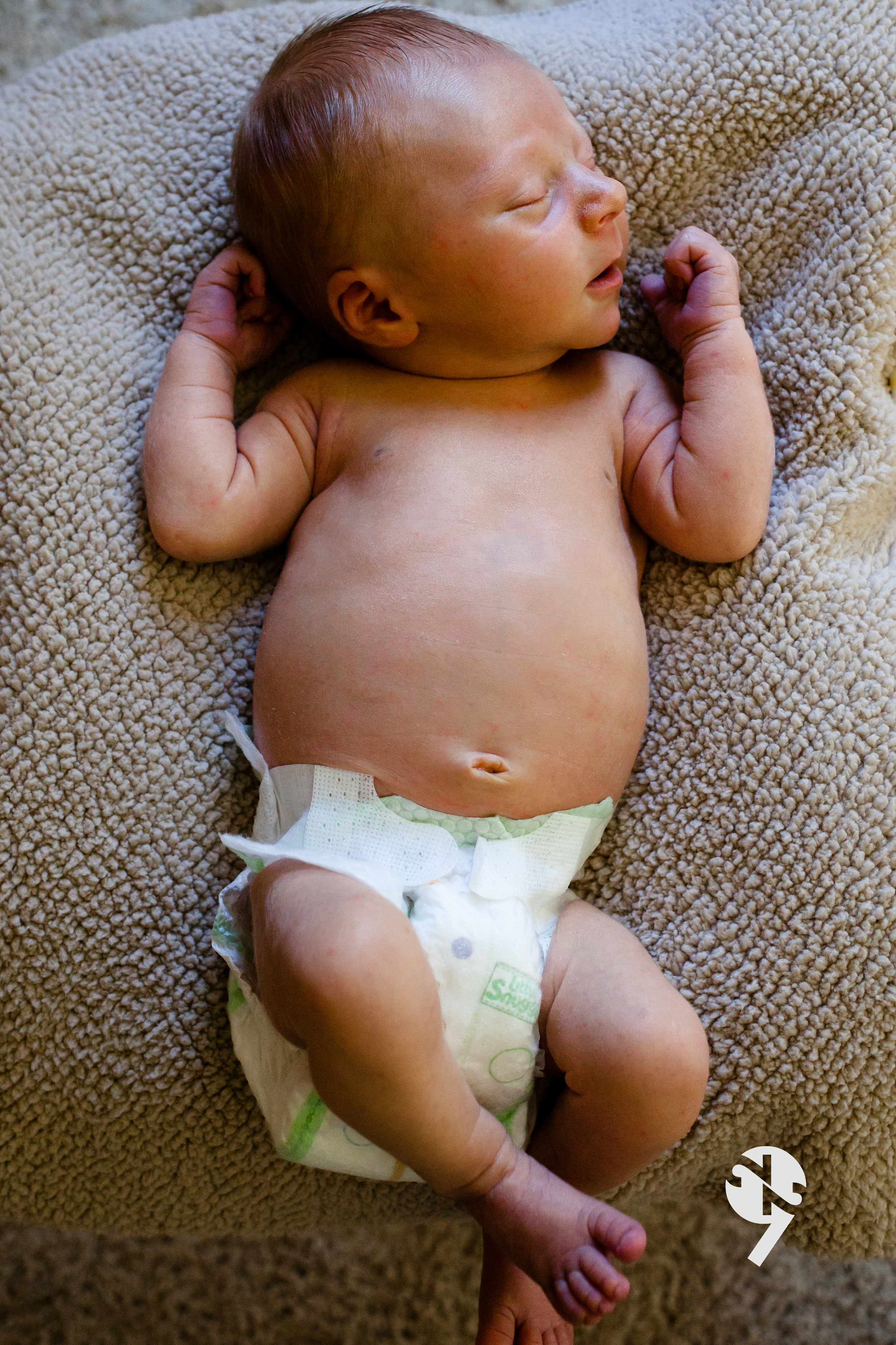 As always, thank you Trevor & Madison for a great day of photographing! Your family is growing in the most beautiful way imaginable, and I'm so excited to continue to be apart of the process! It truly is and always will be an honor.
Cheers!
Julie